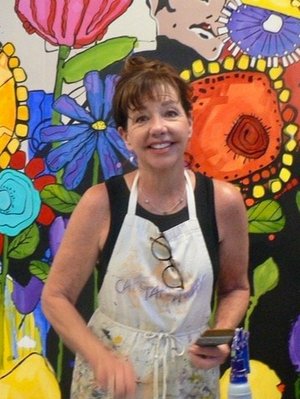 Mona Weinstein
Mona Weinstein has resided in both the province's of Saskatchewan, (where she was born), and in British Columbia, in and around the Kelowna area, in the beautiful Okanagan Valley.

She was born with an instant love of the arts. Her childhood was filled with memories of colouring, sketching and all forms of artistic impressions.
In high school she received a scholarship to the Emily Carr school of fine arts. Unfortunately, she was discouraged by her parents at that time, and was unable to attend. This only strengthened her resolve to make art her lifetime ambition. She was destined to create. She continued wining awards and accolades throughout her illustrious career.

She became one of the first female Sign writers in B.C. to receive her journeymen papers. In the sign industry she became know for her Logo's, illustrations, and airbrushing, as well as her specialty characters, and cartoons. All of which appeared in many night clubs, and commercial signages in and around the province.

Then Mona took a hiatus from sign making to raise her daughter; she turned her attention to painting on canvas, eventually developing the wonderfully creative style she is known for today. With a lighthearted touch that conveys the good in all of her characters, Mona paints the people that she sees, placing them in scenes of everyday life. Her use of colour and whimsical style comes to life with each stroke of her brush.

"My heart is on the end of my brush,' she says; 'if my heart doesn't feel good, neither does my brush.' She says she loves to use her imagination, to poke fun at people and humanity, and that's easily done with paint, on the canvas. Mona particularly loves the abstract of line, and the magical effects of vibrant colours butted up against each other. Working mostly in acrylics and oils, Mona imbues her canvases with colour, energy and humour as she celebrates all aspects of life, from the momentous to the seemingly insignificant. All of this is embedded in her work.

These days Mona is blessed with a beautiful working studio. A space where she is able to share her creative time with her dog/human, "Pepper" and her two cats.

Vendor:

Regular price

Sale price

$4,800 CAD

Unit price

per

Vendor:

Regular price

Sale price

$4,800 CAD

Unit price

per

Vendor:

Regular price

Sale price

$4,800 CAD

Unit price

per

Vendor:

Regular price

Sale price

$4,800 CAD

Unit price

per