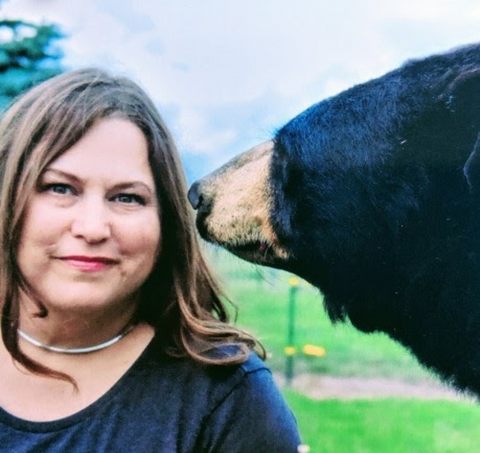 Erica Neumann
"I paint with a fierce love for this land and all its wild citizens, including humankind."

Erica Neumann A.O.C.A.
Erica Neumann is best known for abstract wildlife paintings, especially bears, painted with bold colour and vigorous brushwork using the alla prima technique.

A dedicated fine artist, she values good craftmanship and continues the tradition established by the Group of Seven, depicting wildlife as her preferred subject.

A graduate of the Ontario College of Art and Design, Fine Art Program, and recipient of the Eric Friefeld Award for figure draughtsmanship, Neumann also studied art history at the University of Guelph. She continues to study art history, particularly Neolithic art, and has published work in the Journal of Brief Ideas. This industrious artist also earned a diploma in interior design, and teaches classical painting.

After university Neumann moved from Toronto to Alberta, where she still resides with her family, and began painting the wildlife seen in the mountains.

Neumann first exhibited her work in Canmore and Banff galleries in the mid-1990s. At that time, the wildlife genre consisted of naturalistic art and her original, abstracted, colourful paintings stood out, quickly becoming recognized locally.

Neumann's wildlife paintings have since received widespread recognition in respected museums and galleries in Alberta, British Colombia, and the United States, including in the exhibition A Timeless Legacy: Peace Park 2018 at the prestigious Hockaday Museum in Montana; and a 2009 solo show at the Whyte Museum in Banff, in conjunction with a retrospective exhibition for Canadian art icon Robert Bateman.

Neumann's public installations include a display at The Artisan Gardens at Bow Valley Ranch, Calgary, and the Canmore Folk Festival stage backdrop.

Her publications include a painting in Bow Lake: Wellspring of Art by Jane Lytton-Gooch; illustrations for Spirit of the Wild: A lyrical Colouring Book by Dawn Sprung; and artwork seen in Home and Garden magazine (Oct. 2019), UK.
Vendor:

Regular price

Sale price

$825 CAD

Unit price

per

Vendor:

Regular price

Sale price

$2,500 CAD

Unit price

per

Vendor:

Regular price

Sale price

$2,800 CAD

Unit price

per

Vendor:

Regular price

Sale price

$3,560 CAD

Unit price

per