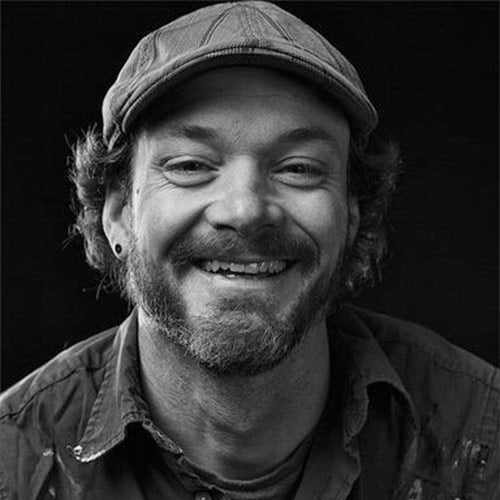 Patrick Markle
Canadian landscape artist Patrick Markle is inspired by experiences in the wilderness. His work focuses on the rhythm of nature and capturing fleeting moments of beauty. Markles work remains true to line and form to keep specific locations recognizable and accurate. He then adds his own flowing style to express the grandeur and beauty of the natural world.
It's with this rhythmic style and heightened colours that Markle creates paintings that are very dramatic and powerful.

Markle grew up in the Kawartha Lakes Region of Southern Ontario. Living in cottage country gave Markle an appreciation for the Canadian wilderness at an early age. His love of landscape, lead the artist to the western shores of Lake Superior where he attended Lakehead University. In 2002 Patrick graduated with an Honours Bachelors of Fine Art. Markle then moved to the Rocky Mountain town of Fernie BC where he has been painting ever since. In recent years Markles work has received much attention and is now featured in collections across North America. Europe and Australia.
Vendor:

Regular price

Sale price

$500 CAD

Unit price

per

Vendor:

Regular price

Sale price

$500 CAD

Unit price

per

Vendor:

Regular price

Sale price

$500 CAD

Unit price

per

Vendor:

Regular price

Sale price

$8,000 CAD

Unit price

per

Vendor:

Regular price

Sale price

$2,000 CAD

Unit price

per

Vendor:

Regular price

Sale price

$3,200 CAD

Unit price

per

Vendor:

Regular price

Sale price

$3,360 CAD

Unit price

per

Vendor:

Regular price

Sale price

$4,800 CAD

Unit price

per

Vendor:

Regular price

Sale price

$1,860 CAD

Unit price

per

Vendor:

Regular price

Sale price

$2,160 CAD

Unit price

per

Vendor:

Regular price

Sale price

$5,400 CAD

Unit price

per

Vendor:

Regular price

Sale price

$1,050 CAD

Unit price

per

Vendor:

Regular price

Sale price

$1,860 CAD

Unit price

per