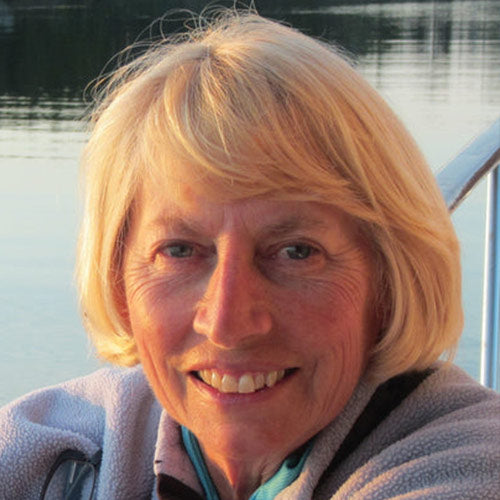 Phee Hudson
Phillipa (Phee) Hudson was born in Rhodesia (now Zimbabwe), and obtained an arts degree at the University of Cape Town before working in London and Cambridge in England. She moved to Canada in the late 1970s and to Vancouver Island in 1981, where she lives in the Deep Cove area with her husband. Her studio is a boathouse overhanging the sea.
Phillipa has always been an active mountaineer, back country skier and sea kayaker, so it is not surprising that her choice of subject has focused more and more on the spectacular alpine country of the Canadian Rockies, the Coast Mountains, and the fiords and inlets of BC's crenellated coastline. In those places, the seasons are intense, the light magical, and the challenge to a painter considerable.

Phillipa founded and owned Mineral World/Scratch Patch in Sidney, Vancouver Island until 2006. Since selling her business she has been painting, first in watercolour and now in acrylic. In 2019 she was awarded Senior member status in the Federation of Canadian Artists. She has won numerous awards for her work, both on Vancouver Island and the lower Mainland. In 2013 she was commissioned to paint three 6' x 8' mountain landscapes for the lobby of the Fairmont Chateau Lake Louise.

Her bold colours and wild scenery have always been popular with discerning collectors who admire her unique style. Her paintings hang in collections around the world - North America, Europe, Africa and Australia.
Vendor:

Regular price

Sale price

$2,350 CAD

Unit price

per

Vendor:

Regular price

Sale price

$2,350 CAD

Unit price

per

Vendor:

Regular price

Sale price

$1,950 CAD

Unit price

per

Vendor:

Regular price

Sale price

$1,320 CAD

Unit price

per

Vendor:

Regular price

Sale price

$2,350 CAD

Unit price

per

Vendor:

Regular price

Sale price

$2,750 CAD

Unit price

per

Vendor:

Regular price

Sale price

$1,960 CAD

Unit price

per

Vendor:

Regular price

Sale price

$690 CAD

Unit price

per

Vendor:

Regular price

Sale price

$1,950 CAD

Unit price

per

Vendor:

Regular price

Sale price

$1,320 CAD

Unit price

per

Vendor:

Regular price

Sale price

$1,950 CAD

Unit price

per

Vendor:

Regular price

Sale price

$1,650 CAD

Unit price

per

Vendor:

Regular price

Sale price

$2,750 CAD

Unit price

per